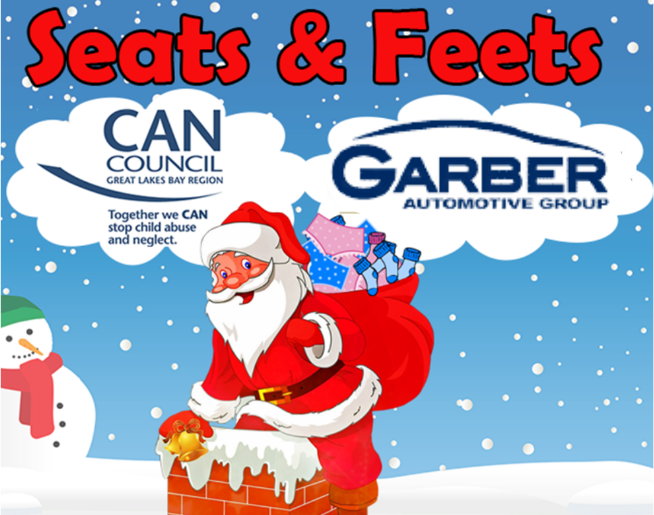 Most of us take for granted our well-stocked dresser drawers…full of socks and underwear. But what if your dresser drawers weren't full and it came down to choosing food for your family or deciding to replace worn out socks and underwear? Not a fun decision to have to make. This is where you come in. Join us and The Garber Automotive Group in a collection drive called "Seats & Feets"!
We're collecting new kid size socks and underwear….that way the CAN Council of the Great Lakes Bay Region can provide them to foster kids they serve and to families in need. Consider starting up a collection at work… make it a project for your kids classroom….or simply drop off socks and underwear to one of the collection sites. From your heart…direct to their seats and their feets….Here's where you can drop off those new socks and underwear now thru December 11th:
Garber Chevy in Midland
Garber Chrysler Dodge Jeep Ram in Saginaw
Garber Chevy in Linwood
Garber Chevy in Saginaw
Garber Chevy/Buick in Chesaning
Garber Buick in Saginaw
Garber Nissan/Hyundai in Saginaw
Rico's Authentic Mexican Takeout in Saginaw
Health Advantage Credit Union in Saginaw and Midland
Double Tree by Hilton Bay City – Riverfront
The CAN Council offices in Saginaw, Bay City and Bad Axe
You can also drop off socks and underwear to our studios in Saginaw!
Thank you for supporting Seats and Feets with The CAN Council, Garber Automotive Group and this Cumulus Media radio station, The Rock Station Z93!