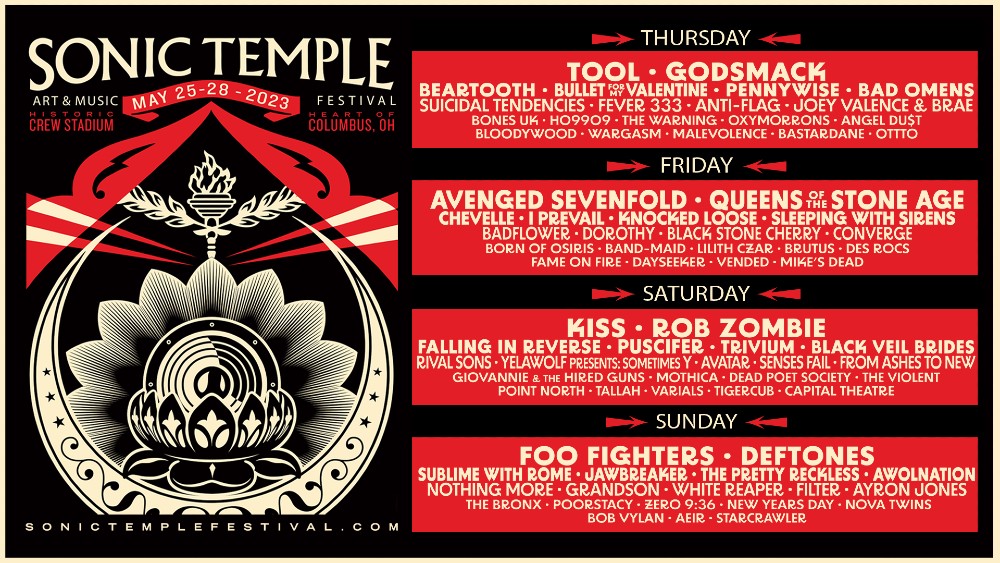 The Sonic Temple Art & Music Festival returns to Columbus, Ohio in 2023 and will feature performances by Foo Fighters, Tool, Godsmack, and Avenged Sevenfold among many, many others!
The festival, which is now four days long, kicks off on Thursday, May 25th, with Tool and Godsmack headlining the first night. The second night, Friday, May 26th, will be headlined by Avenged Sevenfold and Queens of the Stone Age. The third night, Saturday, May 27th, will be headlined by Kiss and Rob Zombie. Finally, the fourth night, Sunday, May 28th, will be headlined by Foo Fighters and Deftones.
Other performers include Beartooth, Bullet For My Valentine, Pennywise, Chevelle, I Prevail, Knocked Loose, Falling In Reverse, Puscifer, Trivium, Sublime With Rome, Jawbreaker, and The Pretty Reckless.
The exclusive presale begins Wednesday, January 11th. Any remaining passes available following the presale will be available on Friday, January 13th. You can learn more at SonicTempleFestival.com.
[@SonicTempleFestival via Twitter]